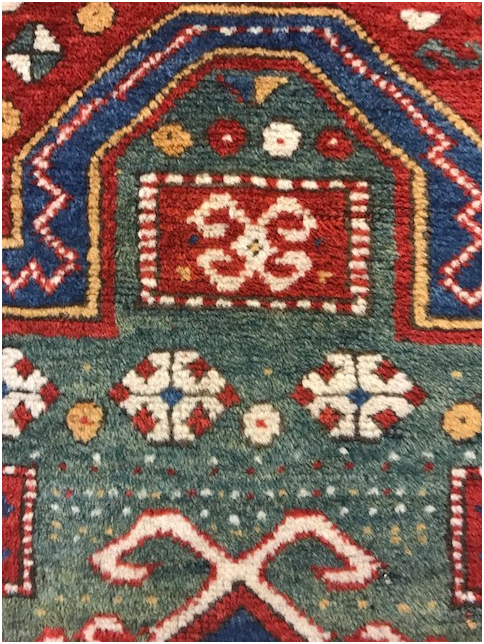 KAZAK ANTIQUE RUGS AND CARPETS IN NEW YORK
Kazak rugs came into existence in the 1780s. These gorgeous rugs were originated in the Caucasus. These were the prized possession. When it comes to weaving, Kazak rug is the most famous of the Caucasus.Some of the finest rugs were originated and developed in Southwest Caucasus, Armenia. These rugs had a uniform geometric medallion and vibrant colors made up of high-quality dye. Search our wide collections of antique Kazak rugs here.
 Glorious History of Kazak Rugs

Kazaks were constructed by the Armenians and the nomadic people. These rugs were status symbols and were placed in palaces, churches and even at homes of aristocrats. They were not laid onto the floor but used to get hung on the walls or placed under the feet of the king. Number of rare kazak rugs were woven as dowry pieces. After 1880 many Kazak rugs and other Caucasian rugs were produced to be exported to the West.



Kazak Rug Basic Characteristics 
 
There is a variety of designs available which mainly consists of diamonds, floral motifs, latch-hooked, zig-zags, etc. The gorgeous colors make the rugs stand out from all the others. These are well-known for their strength, durability, contrasting colors, and authenticity due to which these rugs had a great demand and were collected. Unlike other rugs prevailing in the 19th Century, Kazak rugs had large iconic designs to account for their tremendous appeal. The authentic and antique Kazak carpets and rugs beside the vivid color had a rich assortment of deeply meaningful tribal symbols which can be delightful to the rug collectors and connoisseurs.
Different Types
 of Kazak Antique Rugs 
The Kazak rugs are differentiated by their saturated colors, big patters and other designs embedded in it.Some of the well known Kazak rugs are: Karatchoph Kazaks are well known with their big central medallion and four ivory boxes filled with stars in the corners.They also come in single and double prayer shapes. Sewan Kazaks usually have a big cross or shield medallion dominating the center. Bordjalou Kazaks are famous with their classic facing hooked triangle main border. Fachralo Kazaks are the most diverse among Kazaks having around fifteen different designs including prayer ones. Lori Pambak Kazaks are known with their big stylized medallions in the center. Star Kazaks are the most famous among Kazak rugs and are divided into four groups: A, B, C ,D because of their border arrangements. Lambalo Kazaks are very much like Lori Pambak Kazaks,simple and bold. Tree of Life Kazaks have trees on the madder ground. The sizes vary from small to wide and to runner shapes. Eagle Kazaks also known as Chelaberd Kazaks are one of the most famous Kazaks, having traditional bold stellate sunburst medallions. Cloudband Kazaks are as famous as Eagle Kazaks and are known with their cloudband medallions. There are also Shikli Kazaks and other type of Kazaks woven in different sizes reflecting the taste of the weaver.
General Points and Facts About Kazak Rugs
 
These individual and distinctive rugs have iconic designs are featured in regional rugs including Memling guls, geometric people and animals, symbolic motifs, medallions, etc. These carpets are best known for their monumental and graphic medallion compositions even though they may have all over patterns.  Hagop Manoyan Antique Rugs is based in New York City and has a wide collection of authentic antique rugs. The founder, Hagop Manoyan, himself has Armenian roots helping him have a better understanding of the culture and taste of the West.